Tuesday June 28 – From Lucerne, Matt and I caught one of the high-speed trains out of Basel to Paris.  The train ride was about 3 hours but the scenery was pretty and I read a book.
We arrived in Paris a little after 1pm and after sorting out our metro tickets, hopped on a train to the hotel.  Luckily for us, the hotel was right across the street from the metro stop!  We checked into the Hôtel Observatoire Luxembourg and  had a cute (small) room with a nice spacious bathroom.  We both agreed the shower in Paris was fantastic!
Once we were settled at the hotel we decided to take off and check out the city.  Our hotel was about a mile from Notre Dame, so we started there.  The line to go in was pretty long so we decided we would come back later.  We walked down to the Lourve to see it.  Again, we didn't go in but just walked along the outside and down through the Jardin des Tuileries to the Big Wheel.  We crossed the Seine and headed back towards the hotel.  At this point, I was getting hungry and needed a break.  There may have been a small meltdown before Matt finally stopped for a drink.  He was saved by the popcorn they provided with my glass of wine!  After food and drink, we made our way back to the hotel for a rest.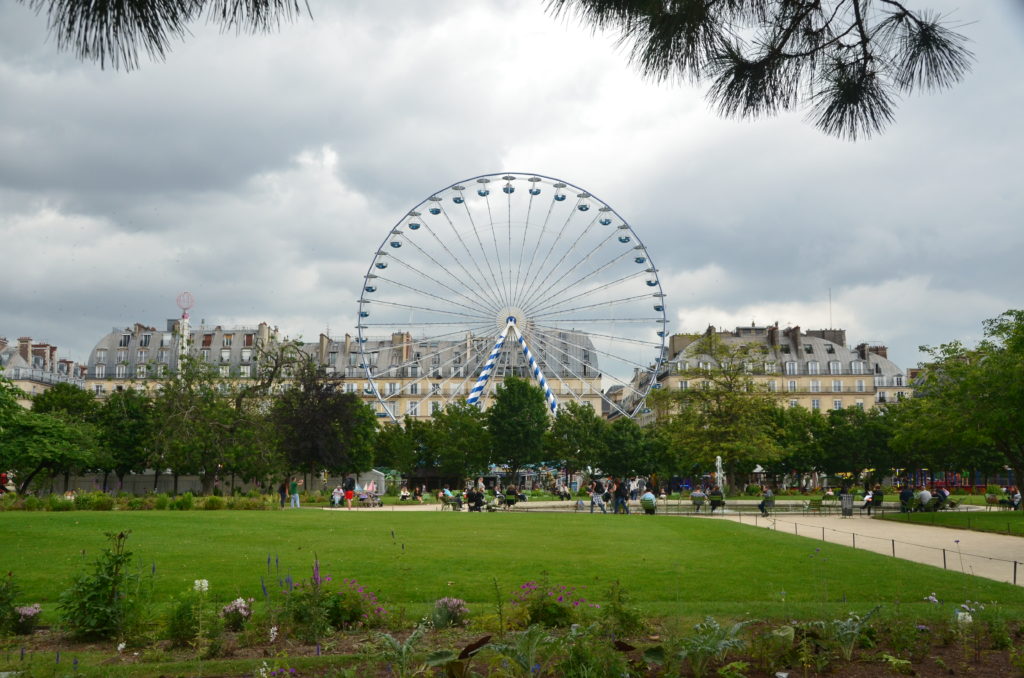 We ended having dinner at the hotel restaurant that night and my dish was amazing!  I had the duck risotto, Matt got a steak and we ordered a bottle of wine!  Matt was interrupted while we were at dinner with work stuff so we went back to the room after dinner for an early night.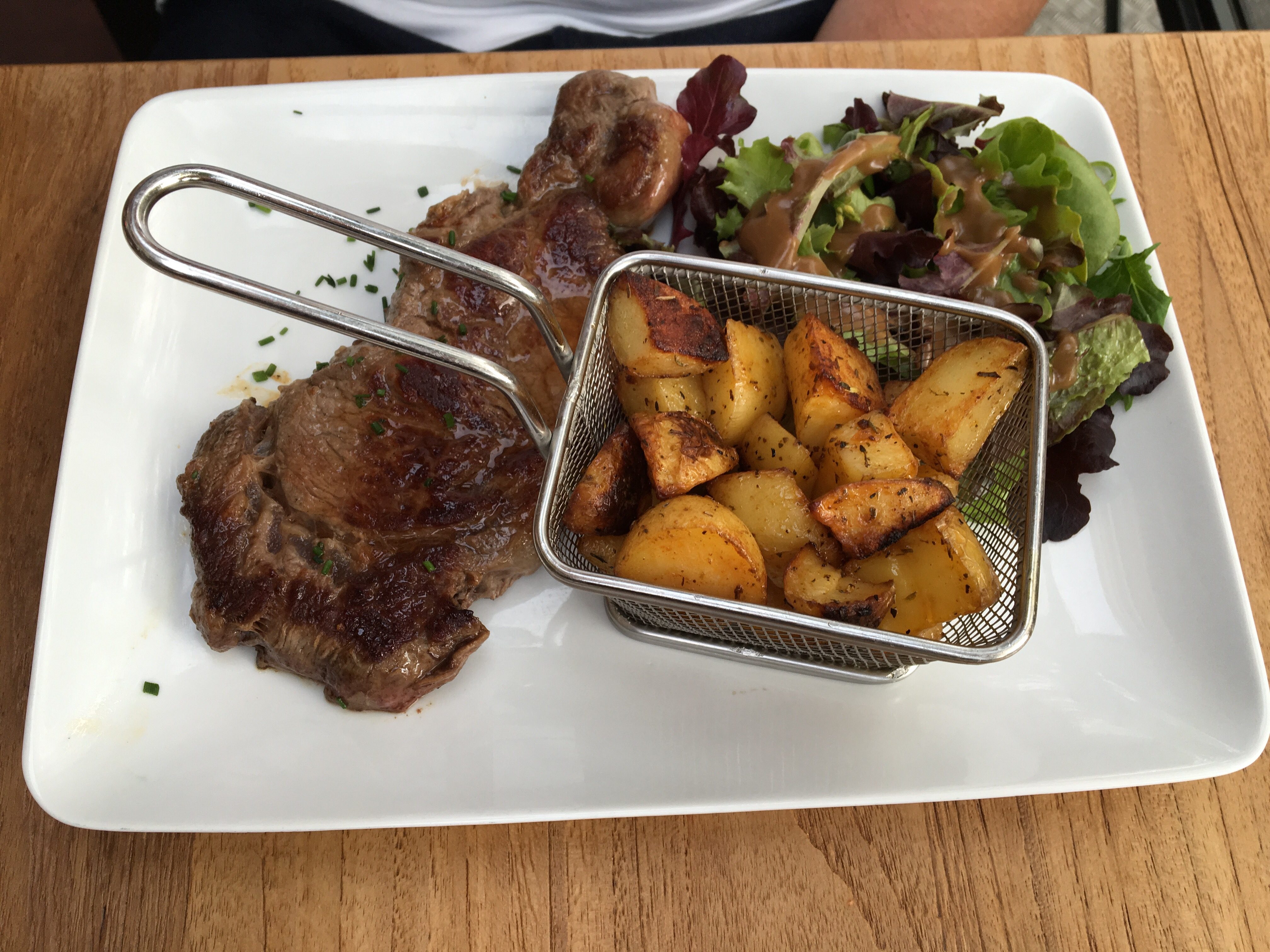 Wednesday June 29 – We started the day with yummy pain au chocolat as we headed over to the Eiffel Tower.  The front desk told us there was a bus that stopped in front of the hotel that would take us over there but we decided to walk.  I mean it was only like 3 miles so NBD right? 😉 We strolled along and finally made our way to the Eiffel Tower.  Unfortunately, with the Euro 2016 taking place in Paris, the entire park in front of the Eiffel Tower was blocked off!  This meant, no picnic in the park. 🙁   I have to say, I did love the Eiffel Tower, though I expected it to look more worn.  There was a ton of security to go through to go under the tower so we just walked around and across the Seine to have a snack break.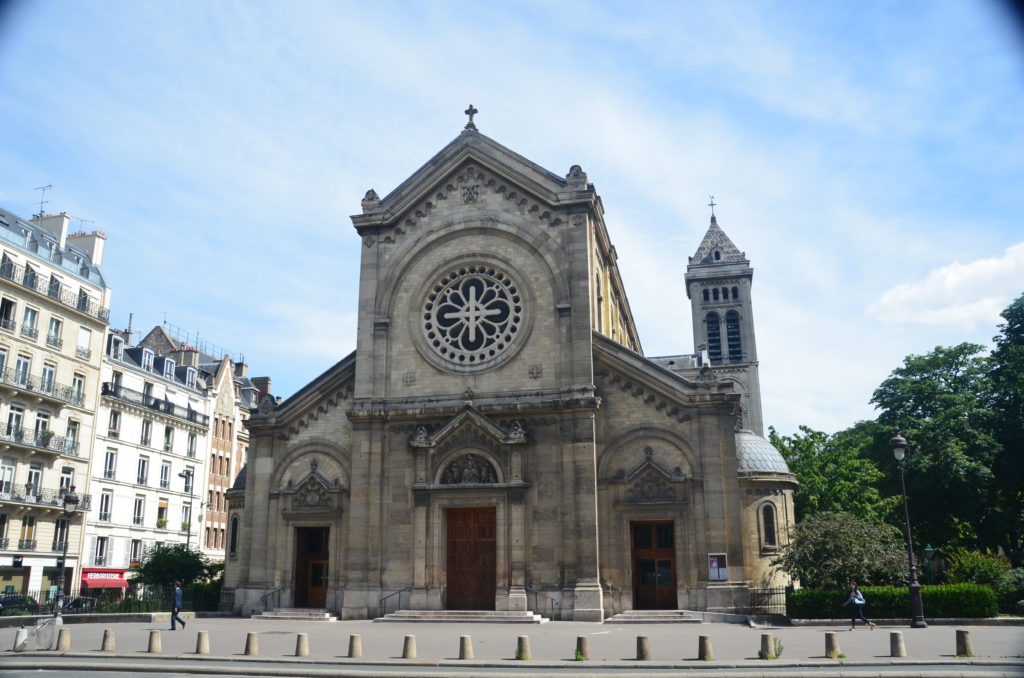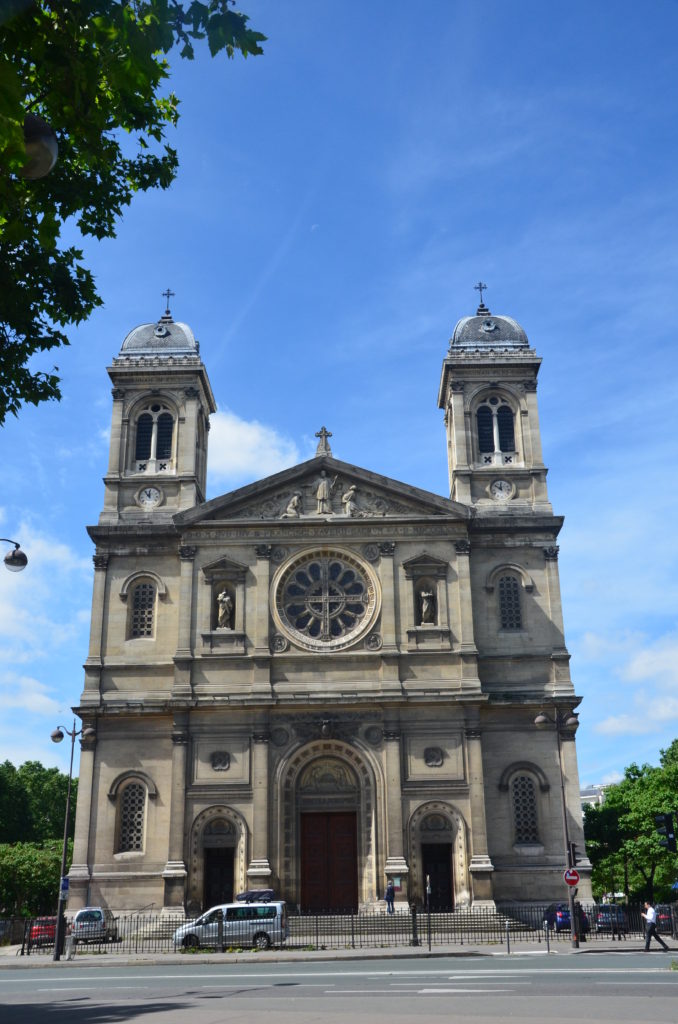 From there, we walked over to the Arc de Triopmphe and down the Champs – Elysees.  A quick trip to McDonald's to the bathroom (because the bathroom situation in Paris is odd and not free) and then we stopped for ice cream at Jeff de Bruges.  It was delicious and just what we needed!  We then walked down to what we think will be the finish line for the Tour de France!  We hopped on the Metro back to the hotel so we could take a quick nap before meeting my cousin for dinner.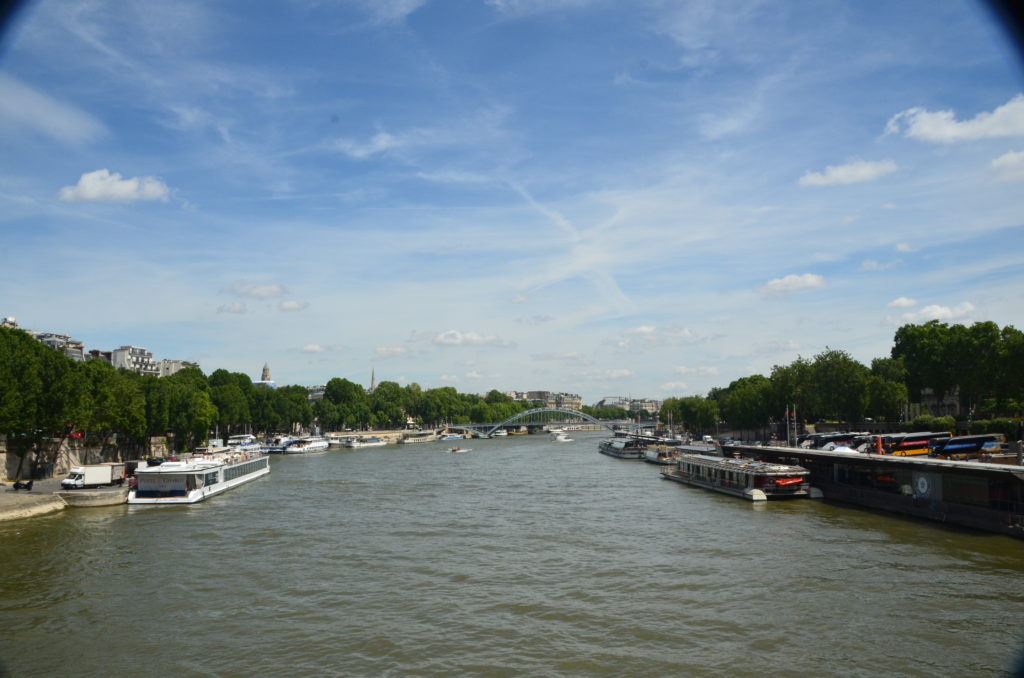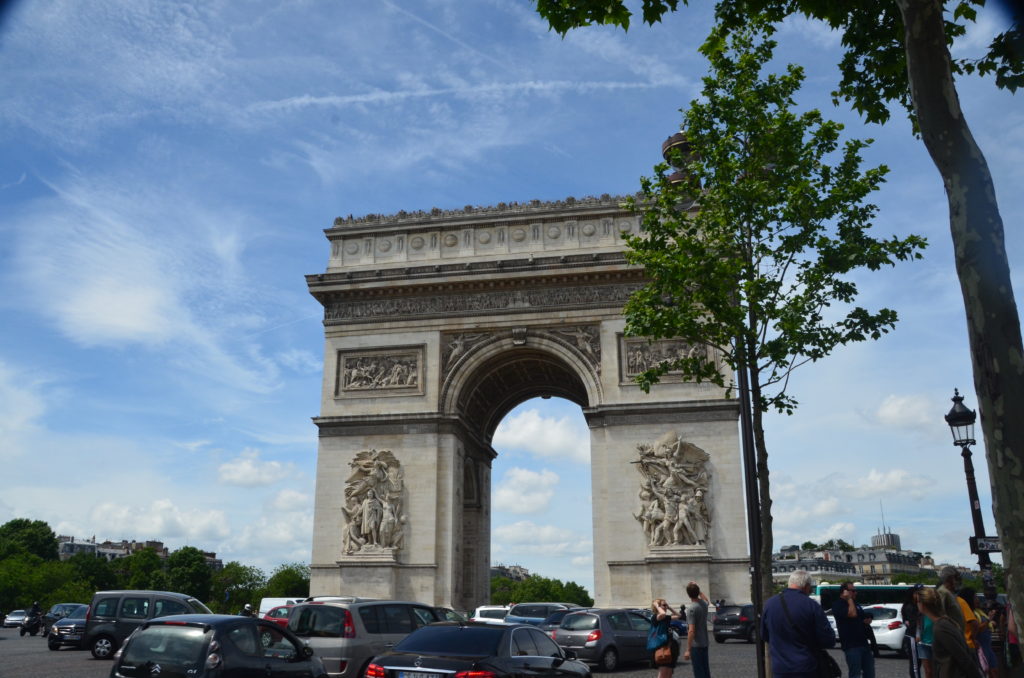 We met her over in front of the Moulin Rouge and as we were walking there from the metro stop, I noticed the street was lined with sex shops!  hehe!  As I was pointing this out to Matt he's like "you do know what the Moulin Rouge is right?"  Duh!  I guess I just wasn't prepared for the fact that there was a still a "redlight district" in Paris.  haha!  The 3 of us found a small cafe around the corner and stopped for dinner.  I think Matt's dish was the only good one, so clearly choosing based on having a table was a bad idea.  We had a really fun night as we started chatting with some Canadians sitting beside us.  My cousin finally had to leave and Matt and I stayed at the table talking to our new friends.  A bottle of wine, and a whiskey later, we realized the metro was now closed and set off to find a cab!  That was a fun ride and we got to see the Eiffel Tower lit up!  It was also 1am.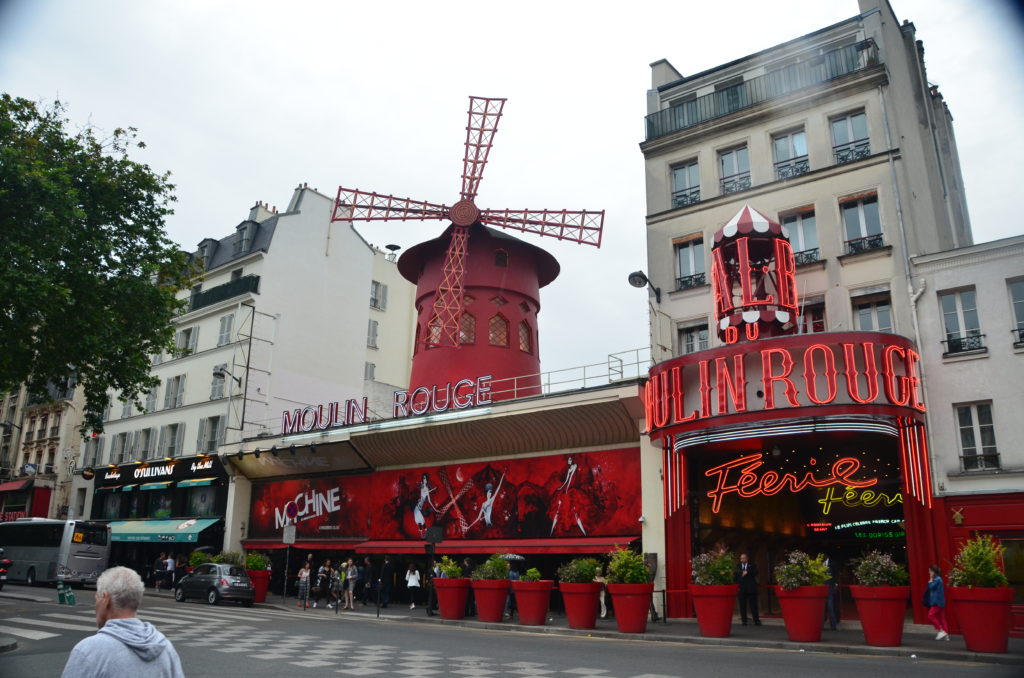 Thursday June 30 – We woke up with no real plans for the day and set off towards Norte Dame again.  In the process of wandering around, we ran across a bakery that had HUGE meringues in the window!  Of course we stopped and grabbed a chocolate one along with a pain au chocolat and a croissant.
As we were eating our ginormous meringue, we noticed the line to go inside Norte Dame wasn't too long and was moving so we decided to go in.  Luckily you could take pics, but without flash!  We were also lucky that we were able to catch the end of Mass.  It was very, very cool!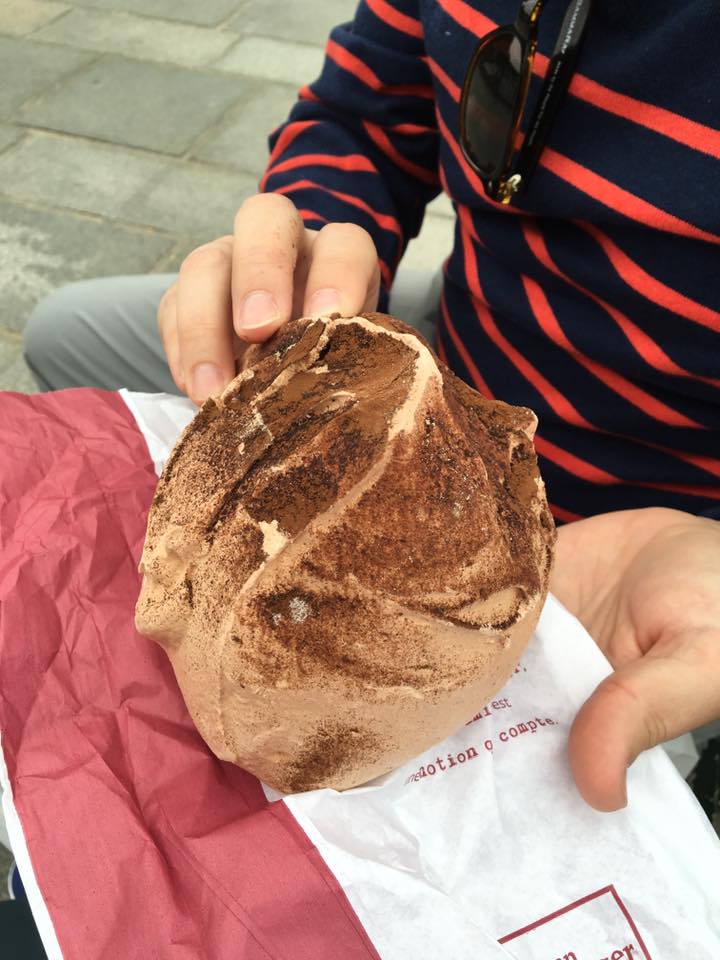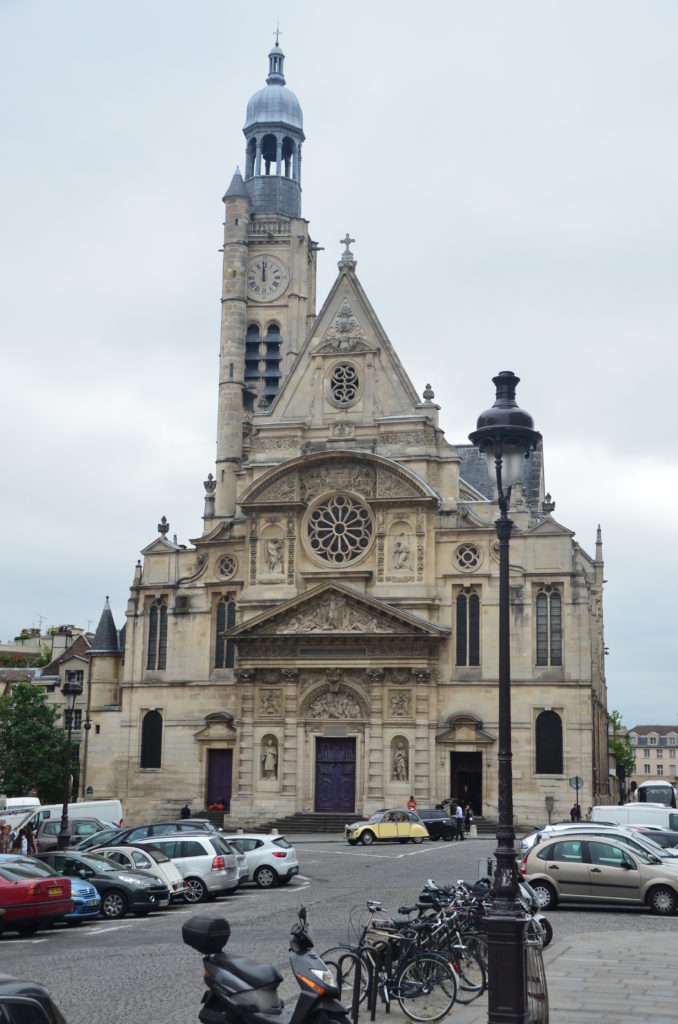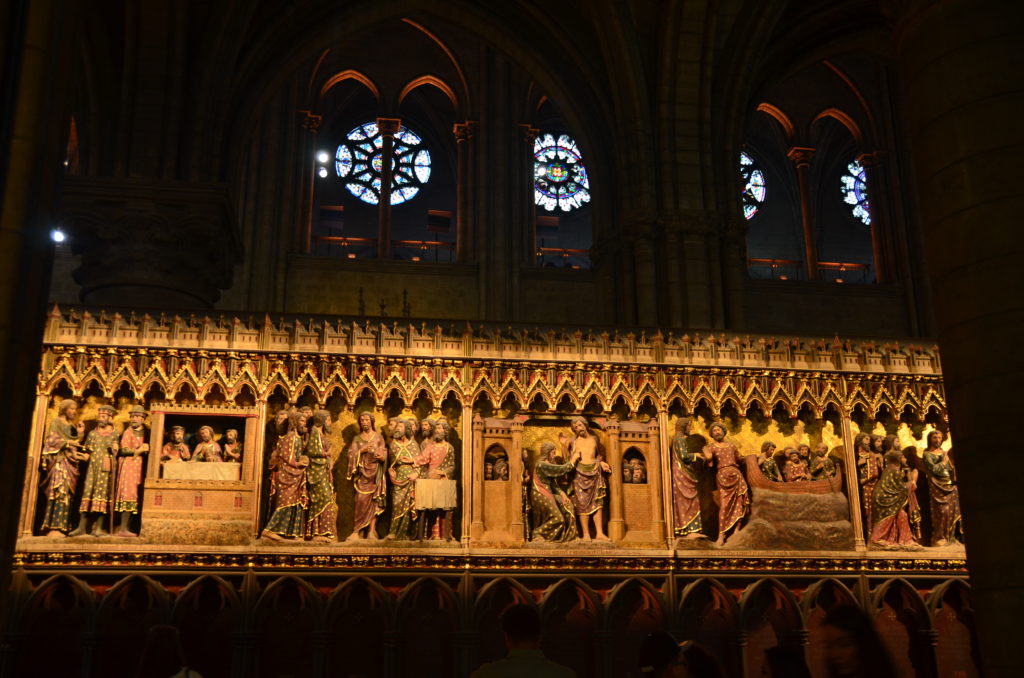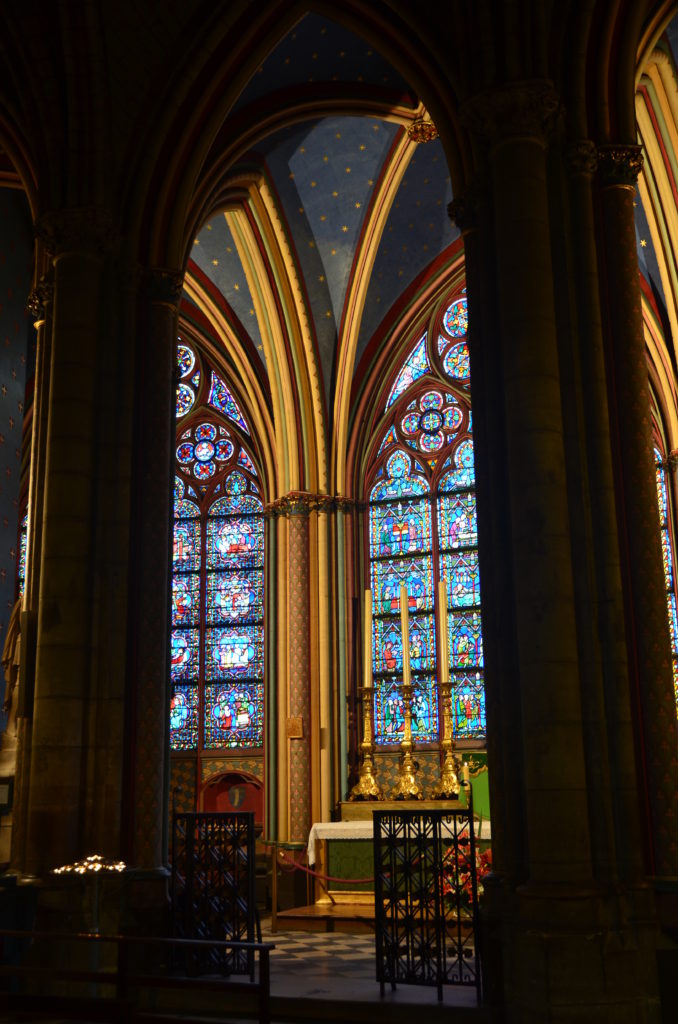 We left Norte Dame, we started wandering again and decided to head over to the Marais.  This was a quaint little section of town.  We walked around pretty aimlessly for a while and finally decided to stop for a drink.  Lucky for us we stopped because as we were finishing our drinks it started to rain.  We stayed where we were until the rain was done and decided to head back to the hotel.  Originally we thought we might head over to the Sacre Coeur but I was getting tired and we figured we could take a nap and go there later in the night.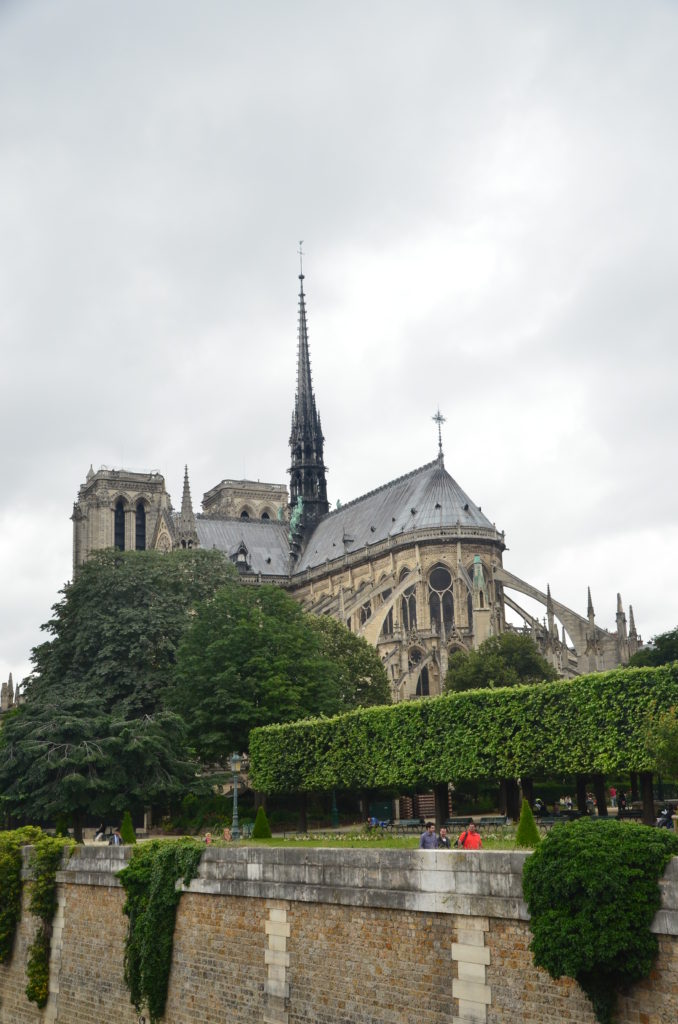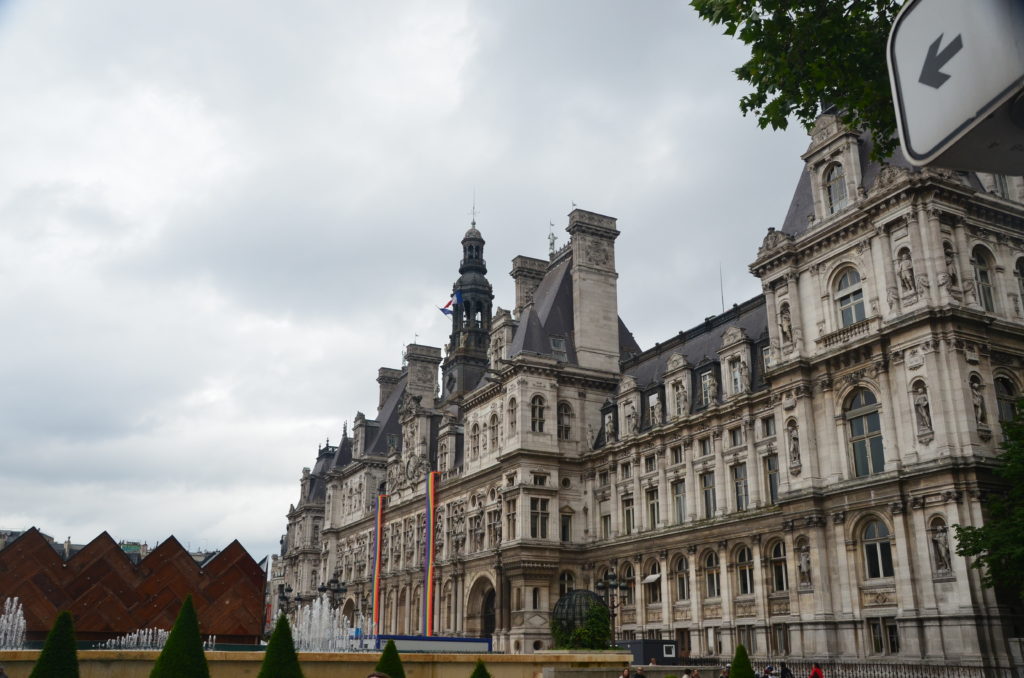 After a nap, we headed out to find food and decided to stop at an outdoor cafe not far from the hotel.  I told Matt I didn't want pizza and then I saw the four cheese pizza on the menu so….yeah!  That happened!  And it was delicious!  Once we were through with dinner we decided just to head back to the hotel and call it a night.
Friday July 1 – We woke up to cloudy skies and our last day in Paris!  I asked Matt what he wanted to do and he said "I thought you wanted to go to the catacombs?"  We'd heard the lines were long, like 2+ hours, but there wasn't really anything left that we felt we needed to do while in Paris.  The catacombs were about a mile from the hotel so we decided to check out the line and go from there.
I hopped in line while Matt ran across the street to grab some breakfast.  I figured we'd give it 15 mins or so and see where we were.  With no other plans, we ended up waiting almost 2.5 hours to get in!  I think it took the longest the closer we were.  Finally we were in and headed down to the tunnels!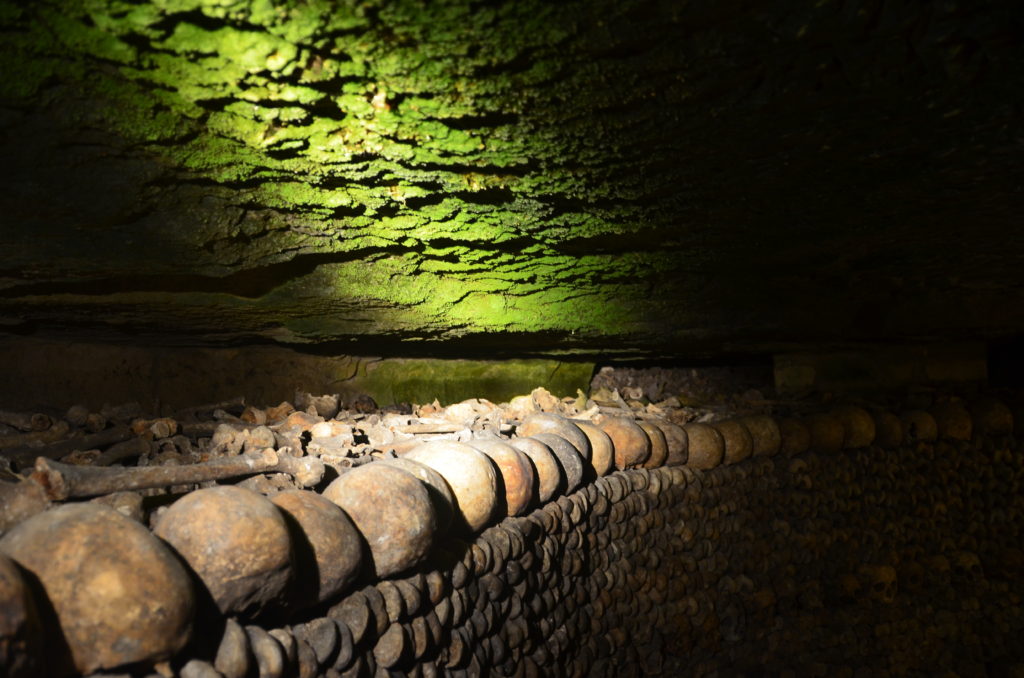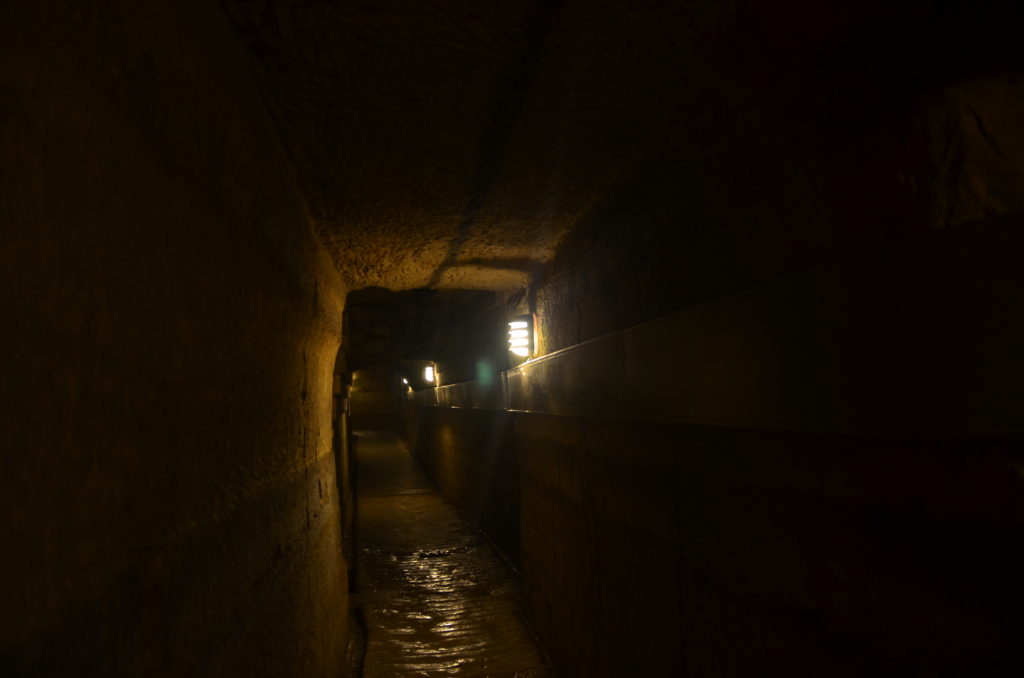 We entered with a small group of about 10 people but as Matt and I started walking in the tunnels, I realized there was NO ONE around us.  It was about this time that I had to start talking myself off the ledge.  I wouldn't consider myself claustrophobic but being in the tunnels all alone started to kind of freak me out.  Finally another couple came up behind us and I started feeling better.  From there, it didn't take too long before we entered the actual catacombs.  It was weird, and creepy, and cool to see all of those bones.  There must have been millions down there!  And we only saw a small section.  The bones were all neatly stacked.  Some had designs or patterns.  It was very interesting.
It's supposed to take about 45 mins to walk the 5 blocks to the exit but it didn't feel like it took that long.  Maybe it did.  Anyway, in order to exit the catacombs, you have to go up this tiny, spiral, stone staircase.  It's only big enough for one person to fit as you go around.  When we started up, Matt saw a sign saying there were 87 steps.  We kind of laughed and started up.  About halfway up, I kind of freaked out again.  I had to focus on my breathing because you are just in the small tunnel going around and around.  You can't see anything above or below you really, other than a few steps either way.  Finally I saw light and bolted for the top.  When we got out Matt made a comment that this might not be the best place to go if you were claustrophobic.  It was then I told him I had a few minor freak outs.  :O
While the catacombs were very cool, and I'm glad we ended up going, I'm not sure it was really worth the 2.5 hour wait in line.  I'm glad we waited till Friday and had seen everything else first.
After we got above ground, we headed back towards our hotel to the Luxembourg Gardens.  They were directly across the street from the hotel.  We stopped to have lunch by a fountain and then walked over to the actual garden.  It was a lovely park and there were tons of people lounging on the lawn.  It was still pretty cloudy though so we headed back to the hotel for a nap.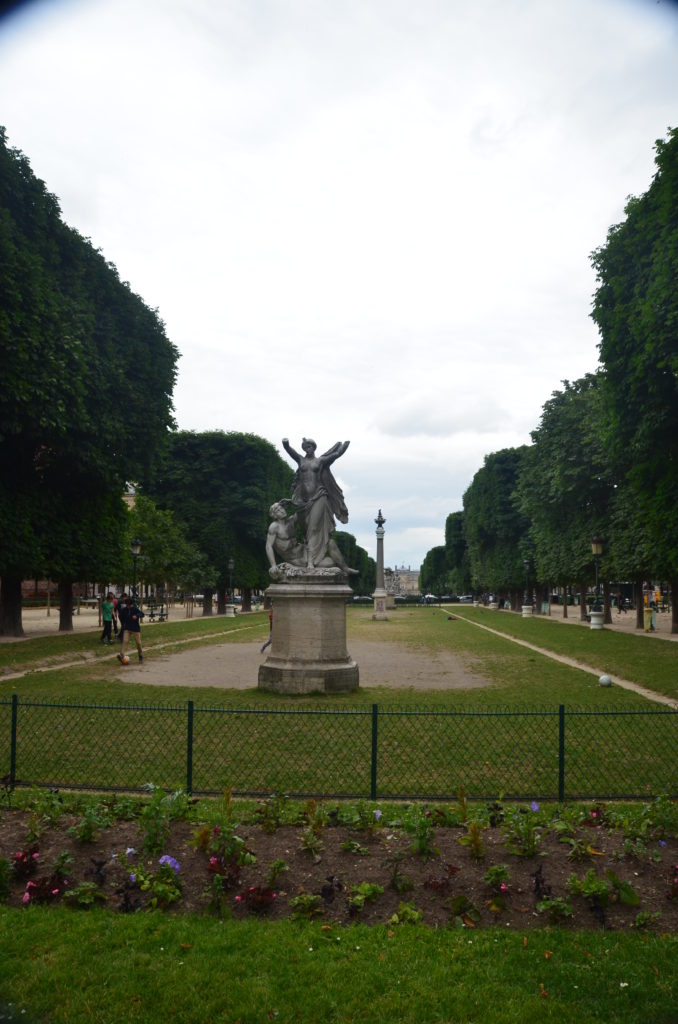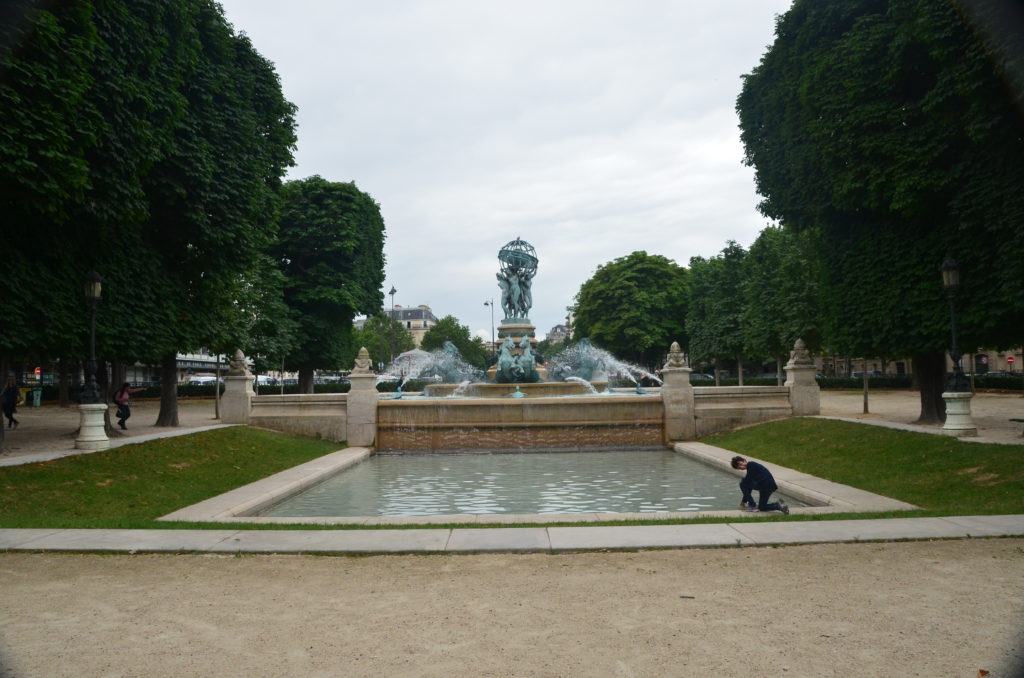 When we got up, we walked around to find some souvenirs and grab dinner.  We still had yet to have crepes so we stopped at La Creperie.  We could see the Pantheon in one direction and the top of the Eiffel Tower in the other.  The crepes were delicious!  After dinner we took the long way back to the hotel before turning in early, since we had an early train to catch to London.  This turned out to be a good thing since it started to rain after we got back to the room.
It was an early night, which was good considering we had an early morning ahead of us.